SSR iPhone app by FilGoal - Made in Egypt, Going Global
Posted on: Dec 27, 2010, at 08:57 AM
Change your way of following the game

December 2010, Cairo: Sarmady just released its premiere app innovation line: SSR by FilGoal iPhone app. The SSR App takes football experience to a totally new level of personal customization for football fans.

Con O'Donnell: "SSR by FilGoal is one of those things that once you've seen it you can't really understand why all sports apps aren't like that."

This is the second iPhone app released by FilGoal.com, after the one made especially for World Cup coverage in June 2010, when a suite of apps were released for Nokia, Blackberry and iPhone platforms. The apps were a massive hit and an excellent kick start for Sarmady in mobile apps business, with more than 50,000 downloads across the three platforms.

The app can be customized with a home screen full of favorite teams and tournaments from the world's top leagues, and with team and cup competitions. It brings all teams' results, schedules and standings, in real time, and also features Live Score real-time updates for most global clubs and international competitions.

Fully customizable with great visuals and optimized navigation, SSR by FilGoal makes it easy to stay on top of the teams and leagues worldwide.

Application Features:

• Available in English & Arabic (with French, German & Italian coming soon)
• Home screen displays favorite team standings, latest results, upcoming matches, favorite tournaments and top 3 ranks
• Add or remove any tournament or team on the home screen and change blocks order
• View favorite teams standings in all tournaments, as well as their matches, schedules & results across the whole tournament
• Add or remove any team to your favorites;
• View list of all available tournaments
• View favorite tournaments standings and all its matches, schedules & results grouped by stage or week
• Live coverage for selected matches from major leagues
• Events & squad of live or played matches
• Up to the minute news coverage from many available sources
• Customize your news according to your favorite sources
• Retina display support

Download it now!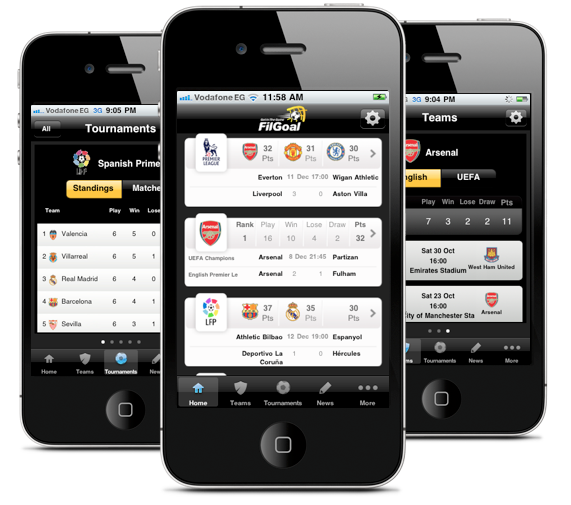 Read also: