FilGoal.com wins award for best sports website
Posted on: Dec 22, 2011, at 09:34 AM
FilGoal.com has been awarded as Best Sports Website in Egypt by the newly-established Syndicate of Online Journalists.

The award was announced at a ceremony at Al-Azhar University and was sponsored by Google on Wednesday, December 21st of 2011.

The ceremony included a seminar about the syndicate, methods of online marketing and a description of the services provided by Google to online journalists.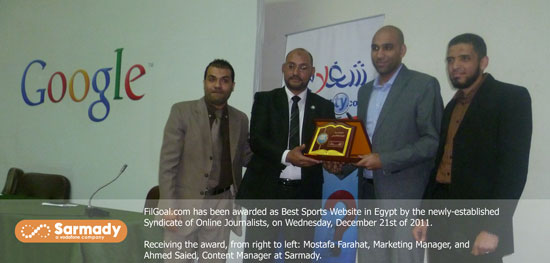 As FilGoal.com was named Best Sports Website, Youm7.com won the Best Scoop gong, while Al-Wafd.org and shoghlanty.com also won other awards.

"It's great to be voted the number 1 sports website by such a specialized organization. We promise our users to continue the hard work to bring them the latest and most credible football news using the most advanced web tools.", said Ahmed Saied, the content manager at Sarmady.

FilGoal.com dedicated this award to its loyal users, considering them as the reason behind the website's success and hoping for the best after 10 years in the field.

Read about it on FilGoal.com, in Arabic-language.
Read also: